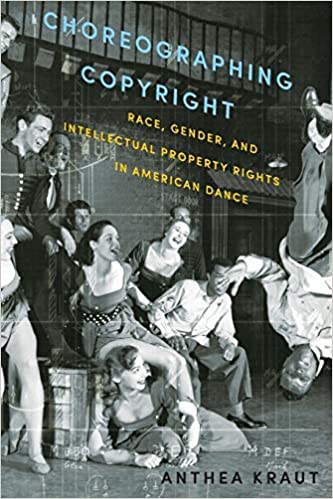 Kraut, Anthea - Choreographing Copyright: Race, Gender, and Intellectual Property Rights in American Dance
Title: Choreographing Copyright: Race, Gender, and Intellectual Property Rights in American Dance
Author: Anthea Kraut
Publisher: Oxford University Press
Publication Year: 2015
ISBN: 978-0199360376
Choreographing Copyright is a new historical and cultural analysis of U.S. dance-makers' investment in intellectual property rights. Stretching from the late nineteenth century to the early twenty-first, the book reconstructs efforts to win copyright protection for choreography and teases out
their raced and gendered politics, showing how dancers have embraced intellectual property rights as a means to both consolidate and contest racial and gendered power.

A number of the artists featured in the book are well-known in the history of American dance, including Loie Fuller, Hanya Holm, and Martha Graham, Agnes de Mille, and George Balanchine. But the book also uncovers a host of marginalized figures--from the South Asian dancer Mohammed Ismail, to the
African American pantomimist Johnny Hudgins, to the African American blues singer Alberta Hunter, to the white burlesque dancer Faith Dane--who were equally interested in positioning themselves as subjects rather than objects of property.

Drawing on critical race and feminist theories and on cultural studies of copyright, Choreographing Copyright offers fresh insight into the raced and gendered hierarchies that govern the theatrical marketplace, white women's historically contingent relationship to property rights, legacies of
ownership of black bodies and appropriation of non-white labor, and the tension between dance's ephemerality and its reproducibility.
This item is available for checkout.