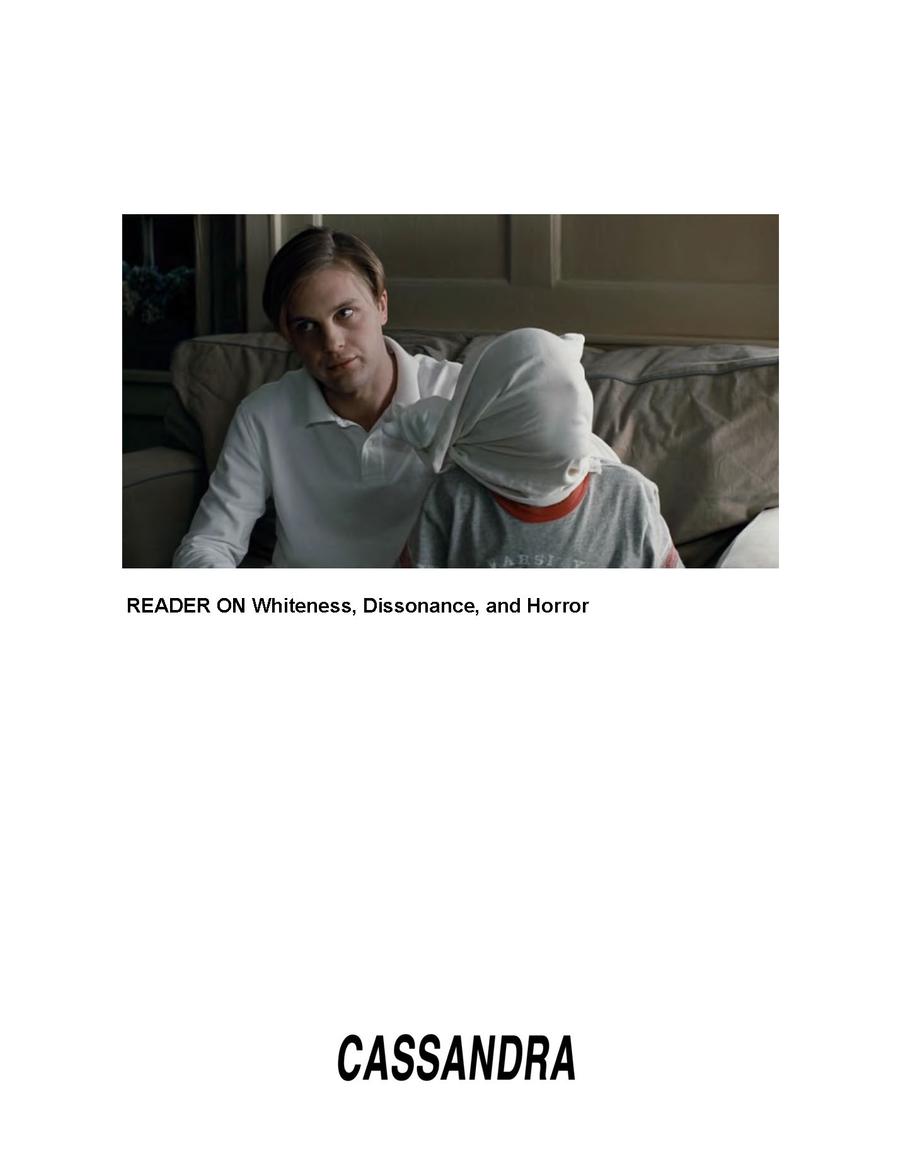 CASSANDRA: Reader on Whiteness, Dissonance, and Horror
Title: Reader on Whiteness, Dissonance, and Horror
Editor: Kandis Williams
Publisher: Cassandra Press
https://cassandrapress.org/B1-Readers
Syllabus of a Cassandra Classroom 2020
Facilitated by Kandis Williams
TA: Charlotte Zhang
Contents:
1- EVIL AND DISSONANCE: COLONIAL VIOLENCE AND WHITE MYTHOLOGIZATION
Dylan Rodríguez, "Inhabiting the Impasse: Racial/Racial-colonial Power, Geonicide Poetics, and the Logic of Evisceration," Social Text 124 33, no. 3 (Duke University Press: 2015).
Vincent Woodard, "Eating Nat Turner" in The Delectable Negro (NYU Press: 2014).
Rachel B. Herrmann, "The 'tragicall historie': Cannibalism and Abundance in Colonial Jamestown," William and Mary Quarterly 68, no. 1 (2011).
Amanda Taub, "Behind 2016's Turmoil, a Crisis of White Identity," The New York Times (The New York Times, November 1, 2016).
Adrian M. S. Piper, "Xenophobia and Kantian Rationalism (1991)," Philosophical Forum XXIV (1992-3): 188-232.
2- MONSTERS OF MODERNITY: WHITE FAMILY INHERITANCE OF MECHANISMS OF TERROR(IZING)
Joseph Campbell, "The Enigma of the Inherited Image," in The Masks of God. Primitive Mythology (London, UK: Souvenir Press, 2000), 30-34.
Rudyard Kipling, "The White Man's Burden" (1899).
Jalal Toufic, "The Undead Has No Mirror Image" in Vampires: An Uneasy Essay on the Undead in Film (The Post-Apollo Press, 2003).
David McNally, Monsters of the Market: Zombies, Vampires, and Global Capitalism (Boston: Brill, 2011).
3- DEMONS, WITCHES, SOLDIERS AND WIVES: INVISIBILITY OF WHITENESS, AND PSYCHOPATHY
Norman Mailer, "The White Negro (Fall 1957)," Dissent Magazine, June 5, 2017.
Friedrich Nietzsche, "First Essay: 'Good and Evil,' 'Good and Bad,'" in The Genealogy of Morals (1887).
Ron, "Slave Tortures: The Mask, Scold's Bridle, or Brank," US Slave, (September 23, 2011).
4- GHOSTS and HAUNTED SPACES, WHITE GUILT EMBODIED
Georges Didi-Huberman and Alisa Hartz, "Outbreaks," in Invention of Hysteria: Charcot and the Photographic Iconography of the Salpêtrière (Cambridge, MA: The MIT Press, 2005).
Leila A. McNeill, "Vulgar Women, Queer Men, and Unruly Spirits," Lady Science (Lady Science, March 18, 2016).
Vincent Woodard, "Eating Nat Turner" in The Delectable Negro (New York, NY: NYU Press, 2014).
Miranda Fricker, "Virtuous Perception: Moral and Epistemic," in Epistemic Injustice: Power and the Ethics of Knowing (Oxford: Oxford University Press, 2011): 72-81.
Eva Illouz, "Romantic Webs" in Cold Intimacies the Making of Emotional Capitalism (Cambridge: Polity, 2017).
Thomas Strychacz, "'The Sort of Thing You Should Not Admit': Ernest Hemingway's Aesthetic of Emotional Restraint" in Boys Don't Cry?: Rethinking Narratives of Masculinity and Emotion in the U.S., edited by Milette Shamir and Jennifer Travis (New York: Columbia University Press, 2002).
Laura U. Marks, "The Memory of Images," in The Skin of the Film Intercultural Cinema, Embodiment, and the Senses (Durham u.a.: Duke Univ. Press, 2007).
Wolfgang Ernst, "Temporalizing the Present (Differential Delay)," in The Delayed Present: Media-Induced Tempor(E)Alities & Techno-Traumatic Irritations of "The Contemporary" (Berlin: Sternberg Press, 2017).
Cheryl I. Harris, "Whiteness as Property," Harvard Law Review 106, no. 8 (1993).
Ian Baucom, Specters of the Atlantic: Finance Capital, Slavery, and the Philosophy of History (Durham: Duke Univ. Press, 2007).
5- VISIONS OF A BIBLICAL APOCALYPSE: WHITENESS, ROMAN VIOLENCE, PROPHECY, AND CLIMATE CHANGE
Rayvon Fouché, "The Wretched of the Gulf: Racism, Technological Dramas, and Black Politics of Technology," The Black Scholar 36, no. 4 (2006).
This item is currently checked out.