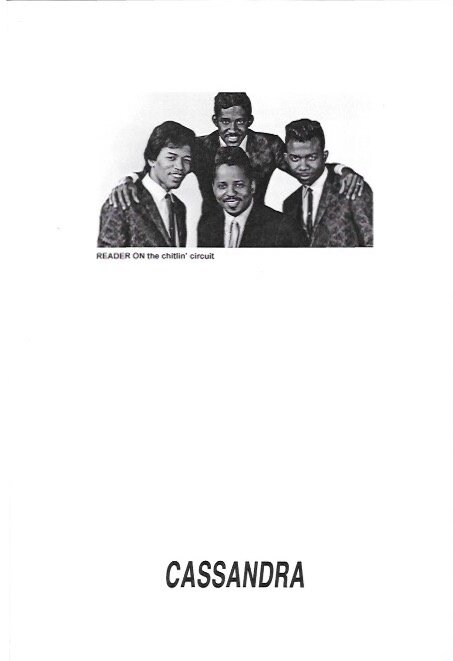 CASSANDRA: Reader on The Chitlin Circuit
Title: Reader on The Chitlin Circuit
Editor: Kandis Williams
Publisher: Cassandra Press
https://cassandrapress.org/B1-Readers
Contents:
Clyde Adrian Woods and Ruth Wilson Gilmore, "The Social-Spatial Construction of the Mississippi Delta" and "The Enclosure Movement," in Development Arrested: The Blues and Plantation Power in the Mississippi Delta (London: Verso, 2017).
Angela Y. Davis, "Here Come My Train: Traveling Themes and Women's Blues" and "Up in Harlem Every Saturday Night: Blues and the Black Aesthetic," in Blues Legacies and Black Feminism: Gertrude "Ma" Rainey, Bessie Smith, and Billie Holiday (New York: Pantheon Books, 1999).
Tanya Ballard Brown, "The Origin (and Hot Stank) of the 'Chitlin' Circuit'," NPR (NPR, February 17, 2014).
Richard K. Yu, "Chitlin' Circuit: Blues Culture and American Culture," Medium (Medium, January 3, 2022).
Christina Lee, "The Chitlin' Circuit Still Exists," Red Bull Music Academy Daily, January 30, 2017.
Alan Lomax, "A Brief Discography," in The Land Where the Blues Began (New York: Dell, 1995).
John Kisch and Edward Mapp, "Introduction" "Pioneers of Independence: Oscar Micheaux and Spencer Williams" "A Film Anachronism: Paul Robeson," in A Separate Cinema Fifty Years of Black-Cast Posters (New York: Noonday, 1998).
Ed Maliskas, "Introduction", "A Property Destined for Significance, Awakening of an Abolitionist", "The Ownership of the Farm Property from 1859-1950", "Development and Use of the John Brown Farm by the IBPOEW", "The Artists Who Played at John Brown's Farm," in John Brown to James Brown: The Little Farm Where Liberty Budded, Blossomed and Boogied (Hagerstown, MD: Hamilton Run Press, 2016).
Audrey Thomas McCluskey, "Imaging Blackness: Race and Racial Representation in Film Poster Art," in Imaging Blackness: Race and Racial Representation in Film Poster Art (Bloomington, Ind: Indiana University Press, 2007).
Donald Bogle, "The 1960s: Problem People into Militants," in Toms, Coons, Mulattoes, Mammies, and Bucks: An Interpretive History of Blacks in American Films (New York: Bloomsbury, 2016).
Du Bois W E B., "Of Beauty and Death," in Darkwater: Voices from within the Veil (Amherst, NY: Humanity Books, 2003).
This item is available for checkout.