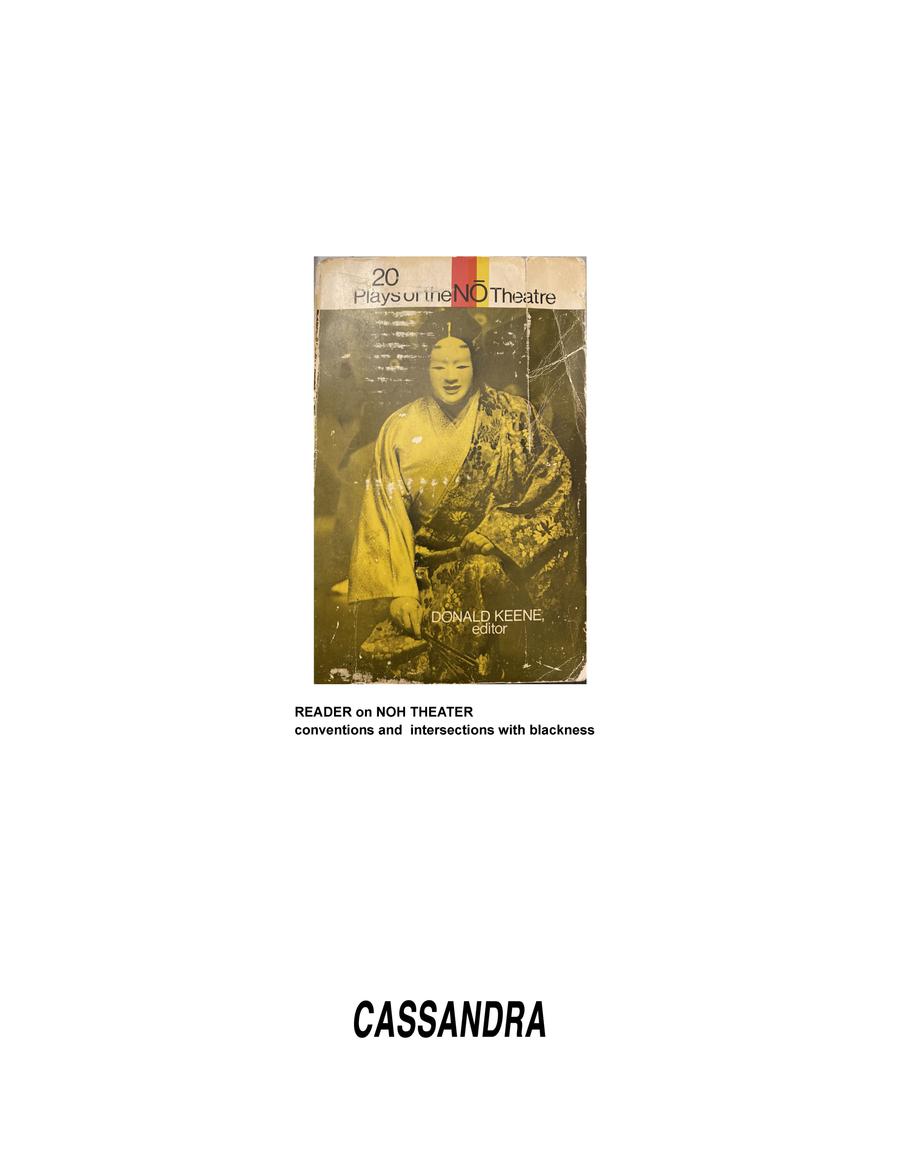 CASSANDRA: Reader on Noh Theatre
Title: Reader on Noh Theatre
Editor: Kandis Williams
Publisher: Cassandra Press
https://cassandrapress.org/B1-Readers
Contents:
John G. Russell, "Playing with Race/Authenticating Alterity: Authenticity, Mimesis, and Racial Performance in the Transcultural Diaspora," CR: The New Centennial Review 12, no. 1 (2012).
Donald Keene, ed., Twenty Plays of the Noh Theatre (New York: Columbia University Press, 1971).
Keiko I. McDonald, "Noh Into Film: Kurosawa's Throne of Blood," Journal of Film and Video 39, no. 1 (University of Illinois Press, 1987).
Emily Roxworthy, "Blackface Behind Barbed Wire: Gender and Racial Triangulation in the Japanese American Internment Camps," TDR (1988-) 57, no. 2 (2013).
Joyce Denney, "Luxury and Propriety: Edo-Period Noh Costumes and Samurai Women's Garments in the Detroit Institute of Arts," Bulletin of the Detroit Institute of Arts 88, no. 1/4 (2014).
Crystal S. Anderson, "The Afro-Asiatic Floating World: Post-Soul Implications of the Art of Iona Rozeal Brown," African American Review 41, no. 4 (2007).
Kurt Eisen, "Theatrical Ethnography and Modernist Primitivism in Eugene O'Neill and Zora Neale Hurston," South Central Review 25, no. 1 (2008).
Claudia Brittenham, "The Gift of Cloth: Highlights of Yale's Japanese Textile Collection," Yale University Art Gallery Bulletin, (2007).
Ronald Bogue, "Deleuze and the Invention of Images: From Beckett's Television Plays to Noh Drama." The Comparatist 26 (2002).
Harry Justin Elam, Kennell A. Jackson, and Harry Justin Elam, "Change Clothes and Go: A Postscript to Postblackness," in Black Cultural Traffic: Crossroads in Global Performance and Popular Culture (Ann Arbor: University of Michigan Press, 2008).
This item is available for checkout.