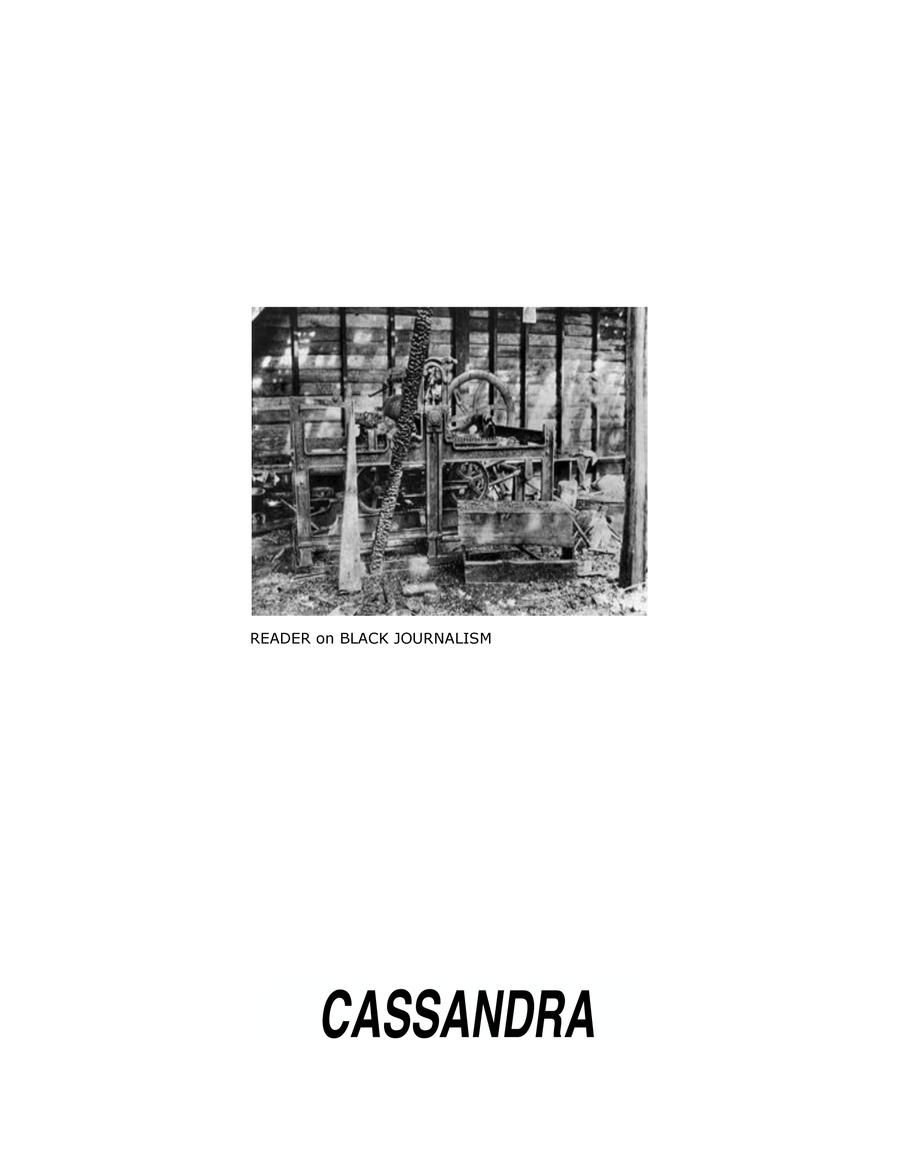 CASSANDRA: Reader on Black Journalism
Title: Reader on Black Journalism
Editor: Kandis Williams
Publisher: Cassandra Press
https://cassandrapress.org/B1-Readers
Contents:
Colita Nichols Fairfax, "The Need To Be: Since 1619, Trauma and Anti-Blackness." Phylon (1960-) 57, no. 1 (2020): 56–75. 
Tristan Samuels, "Herodotus and the Black Body: A Critical Race Theory Analysis." Journal of Black Studies 46, no. 7 (2015): 723–41.Freedom's Journal 1, no. 1 (1827).
Jacqueline Bacon, "The History of Freedom's Journal: A Study in Empowerment and Community," The Journal of African American History 88, no. 1 (2003): 1–20.
Marion Elizabeth Rodgers, "H. L. Mencken and George S. Schuyler," Menckeniana, no. 213 (2016): 13–22. 
The Black Panther 2, no. 3 (1968).
The Black Panther 5, no. 8 (1970).
The Black Panther 1, no. 2 (1967).
Terry Cannon, All Power to the People: The Story of the Black Panther Party (San Francisco, CA: Peoples Press, 1970).
Jo-Ann Morgan, "Huey P. Newton Enthroned" in The Black Arts Movement and the Black Panther Party in American Visual Culture (Boca Raton, FL: Routledge, 2018).
Alessandra Raengo, "Blackness and the Image of Motility: A Suspenseful Critique," Black Camera 8, no. 1 (2016): 191–206.
Charles "Chip" P. Linscott, "In a (Not So) Silent Way: Listening Past Black Visuality in Symbiopsychotaxiplasm," Black Camera 8, no. 1 (2016): 169–90.
Aaron Miguel Cantú, "The Whitest News You Know: The False Promise of a Press for Everybody," The Baffler, no. 43 (2019): 26–35. 
Linda Steiner and Silvio Waisbord, eds., News of Baltimore: Race, Rage and the City (New York: Routledge, 2017).
Jinx Coleman Broussard, Giving a Voice to the Voiceless Four Pioneering Black Women Journalists (New York: Routledge, 2004).
Pamela Newkirk, "Double Standards and the 'Double-Special Burden,'" in Within the Veil Black Journalists, White Media (New York: New York University Press, 2000), pp. 161-189.
Nishikawa, Kinohi. "Race, Respectability, and the Short Life of 'Duke' Magazine," Book History 15 (2012): 152–82. 
Felicia L. Harris. "The Necessity of Digital Publishing in Exploring the Black Experience," Fire!!! 3, no. 2 (2017): 66–79. 
Lauren McLeod Cramer, "Building the Black (Universal) Archive and the Architecture of Black Cinema," Black Camera 8, no. 1 (2016): 131–45. 

Earhart, Amy E. "Can We Trust the University?: Digital Humanities Collaborations with Historically Exploited Cultural Communities" in Bodies of Information: Intersectional Feminism and the Digital Humanities, edited by Elizabeth Losh and Jacqueline Wernimont (University of Minnesota Press, 2018): 369–90.
This item is available for checkout.