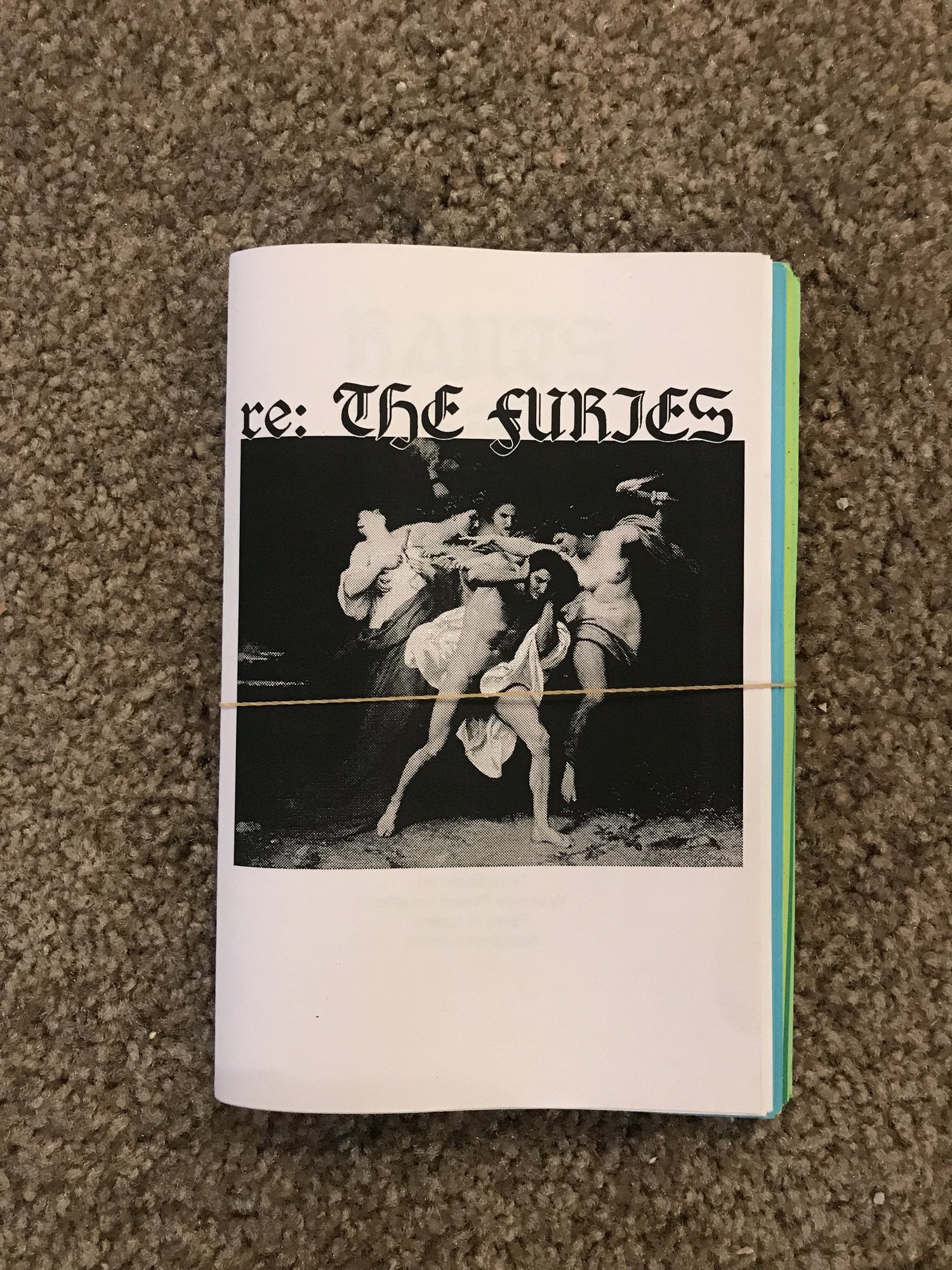 CASSANDRA: RE: THE FURIES
Title: RE: The Furies
Editor: Kandis Williams
Publisher: Cassandra Press
Publication Year: 2017
https://cassandrapress.org/B1-Readers
Contents:
Works by artists Guerilla Girls, Cassie Thornton, Rozsa Farkas, Roula Nassar, Maia Ruth Lee, Jenna Thornhill Dewitt, Daniela Anastassiou, Blanca Guerrero, Taylor Doran, Gala Knörr Sierra, Christie Hayden, Sarah Crowner, Ser Serpas, Rachel Libeskind, Danielle DeMone, Isabelle Yellin, Sarah Manuwal, Andrea Liu, Elizabeth Chin, Camille Lacadee, Courtney Malik, Jessie Holmes, Kate Mullan, Kandis Williams, Nora Backman, Veslemøy Rustad Holseter, Farah Al-Qasimi, Natasha Loutchko, Tamara Santibañez, Yunuen Rhi, LaPorscha Wynne, Christine Wang
Virgil, in Aeneid, trans. Robert Fagels (New York: Viking, 2005): 224-225.
"(1981) Audre Lorde, 'The Uses of Anger: Women Responding to Racism,'" BlackPast (BlackPast: March 12, 2012).
Sarah Grimké, letters to Mary S. Parker, "Letters on the Equality of the Sexes," (1837).
Alice Walker, "Only Justice Can Stop a Curse," Burning Fires 5 (1995).
Jacqueline Dutton, "The Rape of the Sabine Women: Ovid Ars Amatoria, Book 1: 101-134," (dissertation, 2005).  
Assata Shakur and Joanne Chesimard, "Women in Prison: How It Is With Us," The Black Scholar (1978).

Aristophanes, Lysistrata, trans. Ian Johnston (Nanaimo, BC: Vancouver Island University, 2017).
This item is available for checkout.