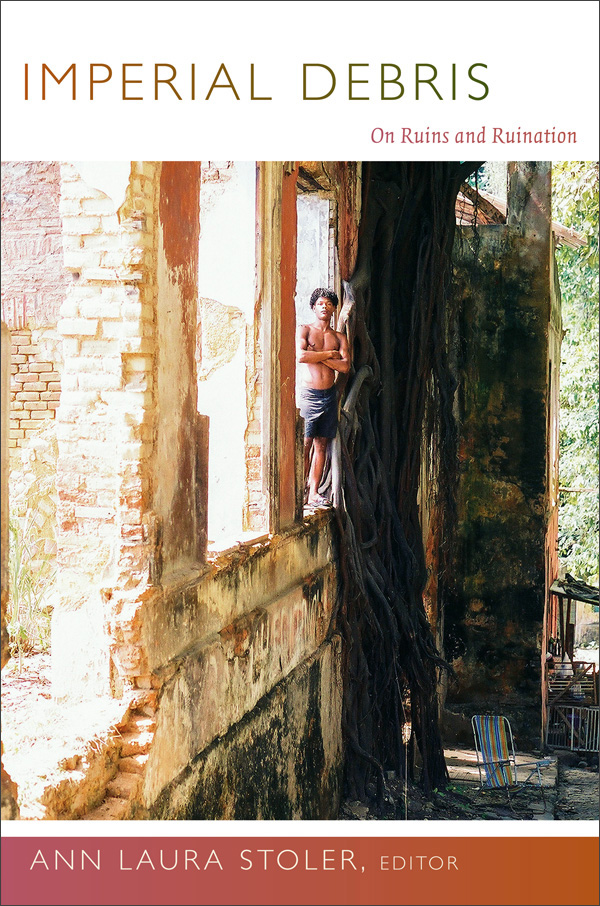 Stoler, Ann Laura - Imperial Debris: On Ruins and Ruination
Title: Imperial Debris: On Ruins and Ruination
Editor: Ann Laura Stoler
Publisher: Duke University Press
Publication Year: 2013
ISBN: 9780822353614
Imperial Debris redirects critical focus from ruins as evidence of the past to "ruination" as the processes through which imperial power occupies the present. Ann Laura Stoler's introduction is a manifesto, a compelling call for postcolonial studies to expand its analytical scope to address the toxic but less perceptible corrosions and violent accruals of colonial aftermaths, as well as their durable traces on the material environment and people's bodies and minds. In their provocative, tightly focused responses to Stoler, the contributors explore subjects as seemingly diverse as villages submerged during the building of a massive dam in southern India, Palestinian children taught to envision and document ancestral homes razed by the Israeli military, and survival on the toxic edges of oil refineries and amid the remains of apartheid in Durban, South Africa. They consider the significance of Cold War imagery of a United States decimated by nuclear blast, perceptions of a swath of Argentina's Gran Chaco as a barbarous void, and the enduring resonance, in contemporary sexual violence, of atrocities in King Leopold's Congo. Reflecting on the physical destruction of Sri Lanka, on Detroit as a colonial metropole in relation to sites of ruination in the Amazon, and on interactions near a UNESCO World Heritage Site in the Brazilian state of Bahia, the contributors attend to present-day harms in the occluded, unexpected sites and situations where earlier imperial formations persist.

Contributors. Ariella Azoulay, John F. Collins, Sharad Chari, E. Valentine Daniel, Gastón Gordillo, Greg Grandin, Nancy Rose Hunt, Joseph Masco, Vyjayanthi Venuturupalli Rao, Ann Laura Stoler.
This item is currently checked out.