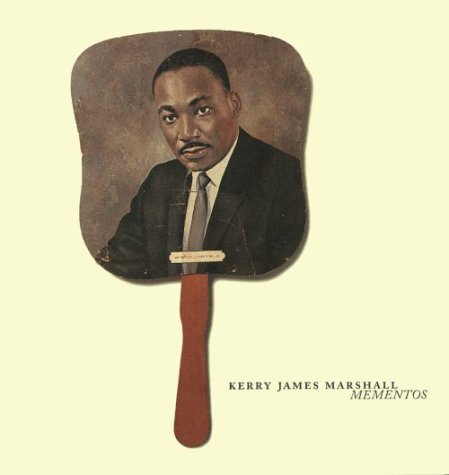 Harris, et. al. - Kerry James Marshall: Mementos
Title: Kerry James Marshall: Mementos
Author: Will Alexander, Cheryl I. Harris, Richard Powell
Publisher: Renaissance Society
Publication Year: 2000
ISBN: 9780941548403
Kerry James Marshall's Mementos is a sadly beautiful reminder of the Civil Rights movement – a reminder that provokes us to question the closed-book, "memorial" status that history has attributed to this moment of inspired social action. In Marshall's banner-like paintings appear bittersweet visions of 30 years past, in which the heroes of modern black history appear as ghosts frozen in time, and in oversized stamps, the empowering slogans of the movement are rendered uncomfortably silent.

This catalogue of the Renaissance Society's 1998 exhibition of Mementos features magnificent reproductions illuminating the stunning detail and formal grace of Marshall's work. In addition, Cheryl I. Harris, UCLA professor of law, offers a poignant account of Marshall's imagery in light of recent history and Richard J. Powell, Professor of Art and Art History at Duke University, walks us through the exhibition installation, weaving memory and metaphor into the rich fabric of Marshall's work. Included also are excerpts from Will Alexander's Hambone #7, and Above the Human Nerve Domain, which infuse the ethereality of Marshall's imagery and its powerful message to transcend history in a revolution of the spirit.
This is a reference item and is unavailable for checkout.